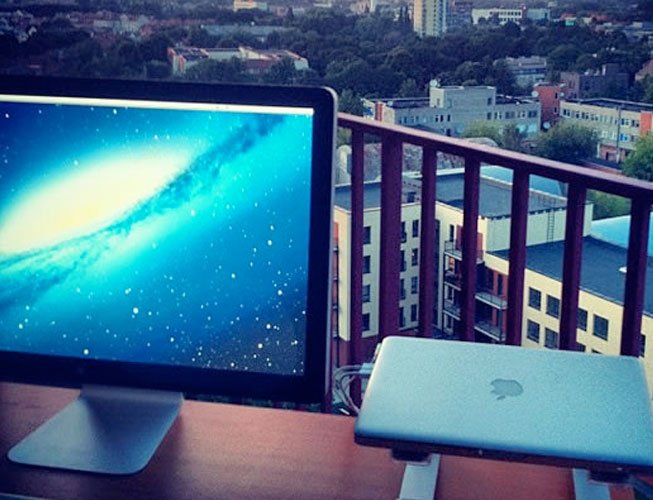 30 Jul

A Few Tips To Make Working From Home Work For You

Just the thought of being able to work from home sounds like an absolute dream come true to many small business owners and entrepreneurs, but it can easily turn around and hinder your progress if you haven't got yourself set up properly. We've compiled a few tips to help you get the most out of your home office and never have to deal with that horrendous commute again.

Your Workspace
Probably the most obvious point to look at first is where it is you'll be working. Are you setting up your office in a spare bedroom, in the basement, in that corner on the main floor? Wherever it may be, it's best to make it a dedicated spot that will strictly be for working and that the rest of the family is well aware of that. Setting up shop at the kitchen table just isn't going to cut it.

Once you've decided on a specific spot, take some time to decorate and outfit it to make it feel more like an office rather than just a room in your home. Hang up some art that inspires you on the wall, spend the money on a nice functional desk, and set yourself up to allow you to get the most work done with the least amount of distractions. (That means that flat screen TV you were hoping to get may not be the best idea!)

Manage Your Time
The best part of working from home may be that you don't have to answer to a boss. As fantastic as that may be, it makes it that much easier to convince yourself to take breaks within breaks, or surf the web for a lot longer than you probably should be because there is no one but yourself to hold you accountable for your time.

Make sure to not fall into the trap of assuming that just because you're at home, that you should be taking care of all the household chores or be the kids' chauffeur service. After all, if you were at the office you wouldn't be able to do any of those things.

It's wise to set out a timetable for the day, or week, that strictly outlines when your work & non-work periods are and even though the distractions can be tempting, stick to what you've set out!

Make Sure To Eat!
This one may seem a bit strange, but it's a very common thing for people working from home. You may be in the zone and just zooming along with your tasks for the day and before you know it you've missed lunch, and it's already 2pm. It's good for both your health (and sanity!) to take breaks and step away from the computer to have your meals or a quick snack. Not to mention it'll rejuvenate those eyes that have been staring at a computer screen for the last few hours.

Working Hours
Whether you're a morning person or a night owl, figure out which time of the day is the most productive to you and make sure the family is aware that these are your work hours and that you shouldn't be disturbed during that time. It will help you keep focused on the tasks at hand.

Keep Track Of Your Accounts
Working from home generally means you're going to be your own bookkeeper and/or accountant. There are many fantastic online cloud-based software options out there to help keep you organized, and we would suggest taking advantage of them. We personally use Quickbooks Online and have been quite pleased with it thus far. It's also a good idea to hang on to any of those receipts that are business related and could be used to help offset your taxes at the end of the year. Invest in a file folder or cabinet of some sort to keep from having receipts shoved in a drawer. You'll thank yourself come tax time!

Have any more tips that you'd like to share? Let us know below!